"Nostalgia is like a grammar lesson: you find the present tense, and the past perfect!"
― Owens Lee Pomeroy
Marketers very well know that bringing back the good memories of the past holds a certain comfort for a customer. Reminiscence displays growth and natural progression while also providing the safety we associate with childhood.
In short, the explanation for the popularity of nostalgic or retro content, fashion, and art is that it makes us feel…well, content.
Food Forerunner General Mills Welcomes Back the Jolly Green Giant
First introduced in the 1920s, The Jolly Green Giant took a lengthy eight year hiatus and only made a few slight appearances upon his return. Now, the Green Giant returns to the spotlight and is proposing a friendly command to children by prompting them to take "One Giant Pledge" as a promise to eat at least one more vegetable per day.
The Cheerios' Kid–another prototypal personality of General Mills–returns from the '60s with low cholesterol but strong sentimentality. All across brand land, the evolution of a logo is often based on slight manipulations rather than a full-fledged change.
Disney's Vault Maintains Character Vitality
Mass media company Walt Disney Studios keeps its characters fresh by re-releasing films for home video sales and in theatres for limited amounts of time before locking them back up in the vault. This process began in 1937 with Snow White and the Seven Dwarfs and continues into the modern day to preserve and restore classics to be enjoyed across new generations.
GE's Magical Time Machine is a Flashback to the Past
General Electric partners with BuzzFeed, featuring an app that converts the webpage into a Time Machine. With one simple click, users are able to view the site from any decade between the 1920s-1970s. This feature displays user interface similar to what could have been if the Internet existed back then. And as if the fun, time-relevant articles weren't enough: visitors can upload old images side-by-side next to new ones with the "Then and Again" component, exploring the evolution of the times.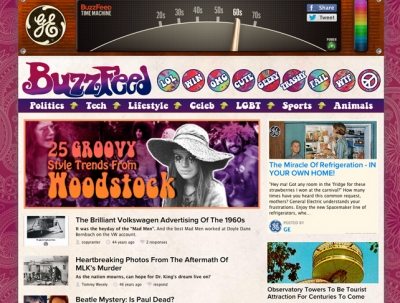 Na Zdrowie to Nostalgia! A Fad That's Here to Stay
Sites such as Facebook has random fluxes of old high school photo posts, and Instagram's photo filters chaperon a vintage charm. Before the emergence of the GE Time Machine, we work in retrospect here at the lonelybrand office with Pinterest 1.0. We also enjoy exploring Silent Film and its connections to the current day with our Silent Film blog series.
What are some of your favorite marketing efforts that have bounced you back to springtide? Or do you find all of this recollection and retrospect on adolescence annoying? When the Spice Girls took stage at the 2012 Summer Olympics, I'll admit I was a bit embarrassed of my giddiness, and it was upsetting to see my friend fight to change the channel. Share your thoughts with us below.