Mifo O5 Plus Gen 2: Editor's pick for best wireless earbuds – $89.99 at Mifo.us

Where to buy the Mifo O5 Plus Gen 2 sports earbuds
The best wireless earphones for sports including running and all around gym/active lifestyle use come from a brand that is fairly new to the US. But don't let that scare you off, as these waterproof earbuds are easily some of the best we have ever tested.
BEST VALUE
OTHER OPTIONS
So what makes the Mifo O5 Plus the best "daily driver" earphones?
The best earbuds for everyday use, period. The Mifo O5 Plus includes a bevy of cutting edge features that blow away higher priced brands, beginning with their form factor. Weighing in at just a few grams each, the O5 Plus earbuds feel supremely comfortable, and include 7 silicon ear tip shapes and sizes for that perfect fit. Further, once in it's nearly impossible to get them to fall out. Readers may remember propensity to fall out was a major problem that prevented us from recommending the Apple AirPods Pro in our last wireless review.
Absurd battery life with power bank feature. The O5 Plus earbuds themselves will play continuously for 7+ hours, a feat we tested over several days. Not only that, but the included USB-C charging case offers an additional 100 hours of play time. No, that is not a typo. We were able to use the earbuds without charging the case for an entire week before it gave out. Not only that, but the case allows you to plug a smartphone in to charge your devices on the go. In our test, we were able to charge an iPhone 11 Pro Max from 0 to 100%. That's stunning, and makes us wonder why earbuds from other brands costing 3-4 times more have just a third of the battery life.
Excellent sound with passive noise canceling and transparency mode you have to hear to believe. The Mifo O5 Plus packs some of the best bass in any true wireless earbuds we have tested. That's particularly helpful if you prefer energetic tracks when pushing yourself to the limit.
You won't be able to hear any outside noise, unless you activate transparency mode. Once activated with a tap, you are able to hear ambient noise around you perfectly, including conversations. That means you don't have to remove the earbuds when you want to order a coffee or have a quick word. We've never seen a premium feature like this is sub-$100 earbuds before, and it is truly impressive.
EDITOR'S NOTE: Mifo has just released the new O7 with carbon nanotube dynamic drivers, Qualcomm chipset, and touch controls. It carries with it substantial added cost, but may offer a superior experience for $149.99.
US-based customer support. We have been continuously disappointed with true wireless earbuds in the past, even from tech giants like Samsung. Part of that disappointment comes with poor or absent customer service, particularly with regard to bargain and knockoff sellers who do not offer any domestic presence or support. We tested Mifo on several occasions with questions and every time received proper replies within an hour. That demonstrates commitment to the US market and contributes greatly to our award of Editor's Pick.
---
Jabra Elite Active 65t: Solid but pricey sports earbuds – $149.95 at Amazon.com

Where to buy the Jabra Elite 65t earbuds in the US
If you aren't price sensitive, Jabra may be the brand for you. These true wireless earbuds come with fewer accessories than the Mifo O5, but offer a more generalist approach to the format.
BEST VALUE
OTHER OPTIONS
Why Jabra makes the list of best earbuds
Good overall quality for true wireless earbuds. Since true wireless earbuds were invented, we have lamented at poor signal quality, dropped calls, and pairing fiascos. Jabra has included top quality chipsets and firmware, and we were pleased with the overall experience.
Excellent marks for sound quality. While bass isn't as rich as the Mifo O5, the overall high and low tones of the Elite 65t are quite good. We'll leave it to you to determine if they sound $150 good.
Limited sports-specific features. While Jabra does an excellent job with calls, we aren't typically on the phone while working out. So we were not surprised when Jabra released the Elite Sport, a newer model designed just for active lifestyles. Unfortunately, it does not live up to the 65t. See below for more on the Elite Sport.
---
Bose Soundsport Free: Earphones that live up to the Bose name – $199.00 at Amazon.com
Where to buy the Bose Soundsport Free earbuds in the US
Bose has delved into the true wireless category by focusing on sports. And while the Soundsport Free is an excellent first product, it suffers from an aging Bluetooth chipset and mediocre battery life, costing Bose a higher position in our list.
BEST VALUE
OTHER OPTIONS
Why Bose gets our approval
Great sound that comes at a cost. While Bose has engineered a product that is indeed worthy of the name, it does come at a cost. Reduced battery life and Bluetooth 4.1 instead of 5.0 hurt the product and age it to the first generation of true wireless product.
Fun, fitness-oriented colors. Of note are the options to pick from a bright, bold, and just plain fun color scheme. While not strictly to do with features, the Soundsport makes going to the gym just a bit more interesting.
Built for sports, but may not work for you. While the Soundsport is made for active movement, we found it a bit bulky. If you have smaller ears, you may experience some discomfort or a feeling that the earbuds may fall out. That's not particularly comfortable when you are trying to focus on your workout.
---
Runners-up: Best Wireless Earbuds
There are many, many wireless earbuds in the sports market. And while we attempt to test as many as possible for our readers, some units simply don't make the cut. Here's a quick peek at sports earbuds that didn't make the list.
---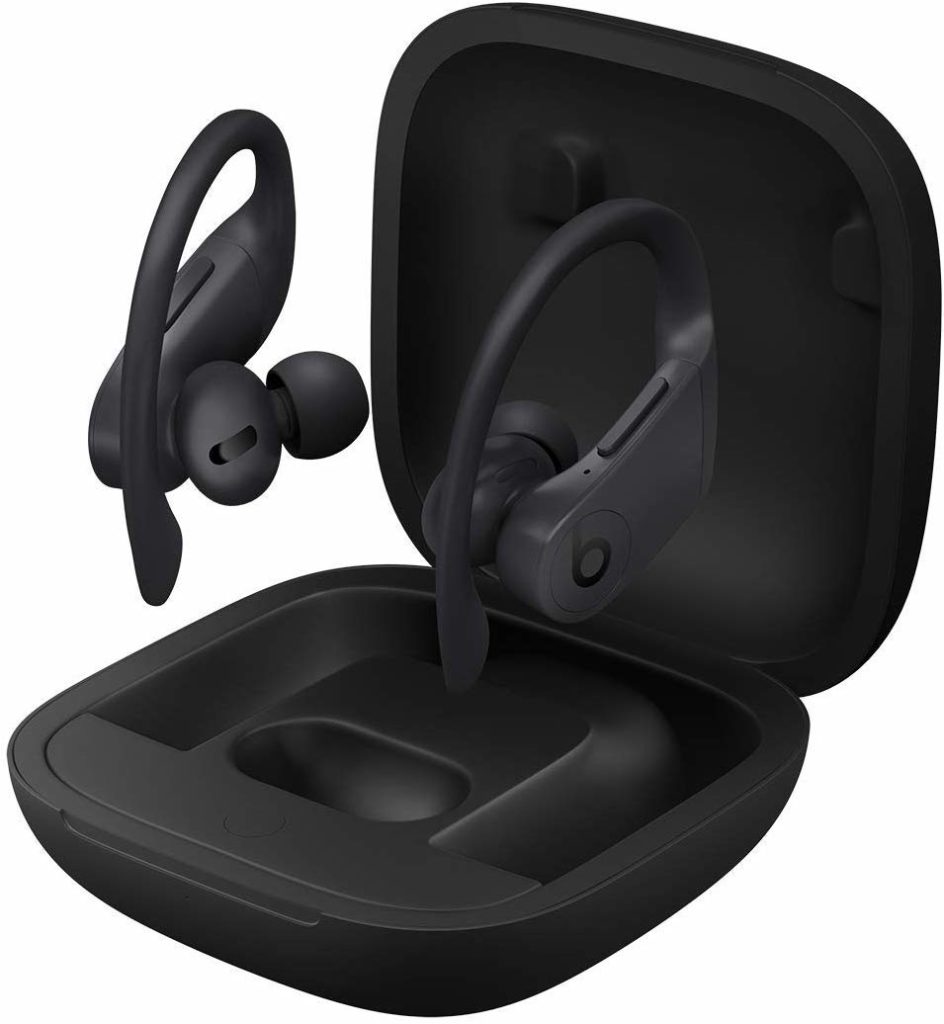 Yes, it's the marriage of Beats and Apple. Yes, it's meant to be used when working out. But for the money, you can do better. The Powerbeats Pro are sleeker with better battery life than their predecessor Powerbeats model. But our biggest complaint about the Pro comes from their bulky profile. They tend to get in the way, and you can definitely feel them weighing on your ears after 20-30 minutes of use. That makes them distracting, and unsuitable for longer runs or workout sessions. Did we mention the giant clamshell charging case? Yeesh.

We couldn't do a roundup without Apple's latest contribution to the true wireless format. The iconic AirPods now feature a revamped design, active noise canceling, and better integration with iOS. Which raises a major gripe we have with AirPods: The features are only 50% there when using Android. That combined with a stem design that easily catches and falls while moving, and we can't fully recommend the AirPods Pro for movers and shakers.
---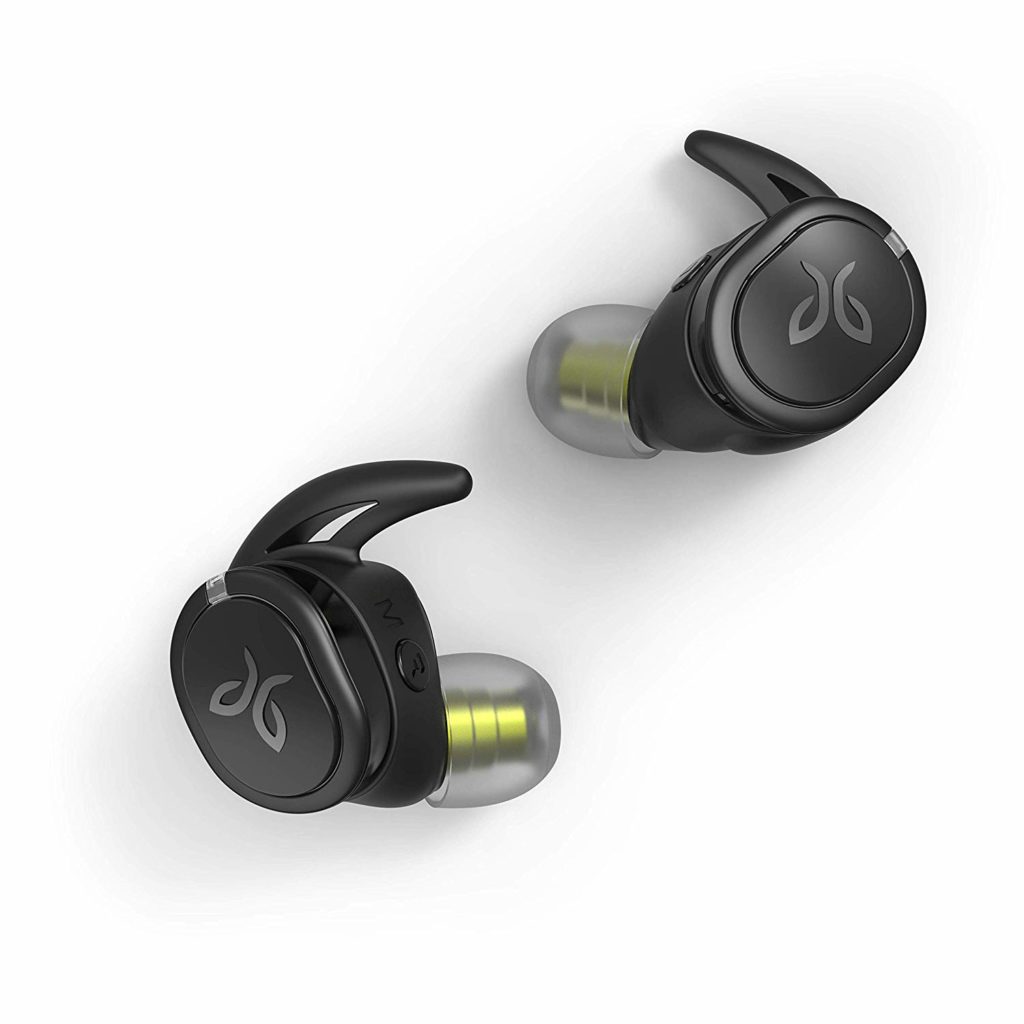 The Jaybird Vista are the next iteration of the dismal Jaybird Run XT earbuds, and are designed for runners. It's a shame that these purpose-built true wireless earbuds don't live up to the moniker. Jaybird has the right idea, but falls short in sound quality and Bluetooth signal strength, making them competitive with other earbuds in the price category, but still too expensive to warrant top marks.
---
The Galaxy smartphone is one of the most popular on the planet, and the pressure to create award-winning accessories is high. But from active movers' perspectives, the Galaxy Buds don't quite justify their price tag. Samsung tackled the challenge of an all around true wireless earbud, but failed to address runners and gym goers head on. We look forward to Samsung producing a model made specifically for sports.